About Us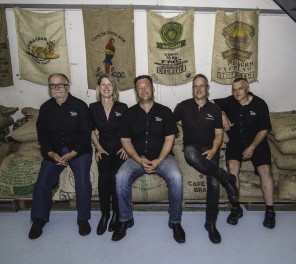 TasCaffe was born in 2000 when the Cioppi family relocated to Hobart from Melbourne for a more relaxed lifestyle. Nick Cioppi, a factory trained Coffee Machine Mechanic and his son Frank Cioppi started out as a coffee machine repair service, then discovered that Hobart was limited in their choice for coffee and started distributing a mainland product to a small group of Café's in and about Hobart. With over 30 years in the industry between them, after a while they took the leap into roasting coffee. The product was of the highest standards and it wasn't long before the word had spread that they were roasting coffee second to none.
With a high demand for a good quality local product it was apparent that the two needed more help than family could offer to meet the demand of the locals and in 2008 David Boheme joined the business as a delivery driver, customer sales representative and all round factory hand.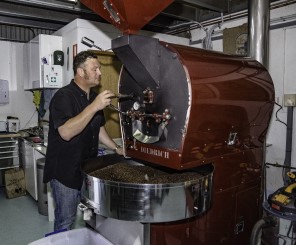 After 13 years Frank decided it was time to step back from the business to take a well earned break. It was at this point in time Nick and David were joined by Rachael Sansom. Rachael had worked extensively in the hospitality industry and in 2010 had taken over the Tasmanian distribution of Coffee MIO. Rachael was trained in Melbourne by the Coffee MIO team on all things to do with coffee, which included barista training and servicing and maintenance of espresso coffee machinery. With Rachael's skills, knowledge and ability to step straight into the role of manager with minimal training required it was a perfect match.
Since Rachael joined Nick and David at TasCaffe the business has taken on a new life form in all facets including an overhaul of the whole factory, streamlining roasting procedures, increasing the capacity of the workshop to service customer machinery, establishing interstate distribution networks, and most importantly of all; introducing new product lines to make TasCaffe a complete one stop shop for everything to do with hot drink supplies.
Today TasCaffe is the leading coffee roaster in Tasmania servicing customers both state wide and interstate through our distribution networks.